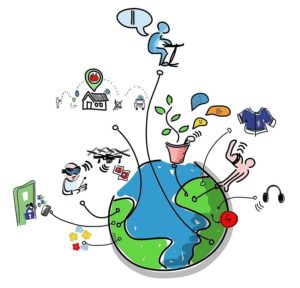 Some recent development shows that we can expect major advances in the Internet of Things (IoT), as major investments are being made in the field right now. SpaceX is deploying the Next set of satellites ordered by Iridium a communication player in IoT space and who wants to be a leader in the new technology. Using multiple polar orbit satellites, it hopes to cover the whole world and provide the next generation of services. By the time NEXT is fully deployed, at the end of 2018, it will include 75 satellites — 66 that are operational satellites and nine as on-orbit spares.
"All 10 new satellites have successfully communicated with the Iridium Satellite Network Operation Center and are preparing to begin testing," the Iridium Corporation wrote in an update after the latest launch. Iridium promises better tracking than before, using L-band broadband service. L-band service is faster than the current service from satellite ground terminals. As NEXT becomes more powerful, this will generate all sorts of tracking information to benefit customers. For example, tracking shipping containers will increase delivery accuracy and security. Monitoring remote power lines from afar will reduce the time needed to check them in person, Matt Desch chief executive of Iridium said.
The reason why this is really important for the next stage of human development to take place, we will need this and even more infrastructure to track humanity and its activities. When IoT  development is augmented with sensors and actuators, the technology becomes an instance of the more general class of cyber-physical systems, which also encompasses technologies such as smart grids, virtual power plants, smart homes, intelligent transportation and smart cities. This will be a game changer as it will allow us to track and optimize major systems in logistics, energy and communications, on a scale not even imagined today. There is revolution about to happen in how we will live, work, communicate and travel in the future.
Looking in amazement at the launch of the Falcon 9 Rocket, as it took the latest 10 satellites into space I thought to myself "This a wonder and the awe of Space flight is now going to become a common sight, as nations across the globe start competing for this new race. Our Grandchildren will wonder why this is such a big deal to our generation. Their cyber-physical world will be very different from what we have today."
My only wish is that the next generation's times be filled with more compassion and happiness, than the world we live in today.  Hopefully as communication increases we can overcome our differences, and strive for the common good of humanity. As productivity and logistics improve, we should also expect to see a growing need, for everyone to come together. The world is going to be far better connected in the future and many things will become much easier to know. Humans will be able to live more closely with each other, by being constantly connected with the IoT. We have to learn to enjoy this new world and be happy,  as it is coming whether we like it or not.