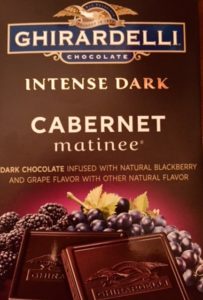 It is Friday night and the moon is mostly full, on this not so cold, winter night. The house is empty and quiet; once I turn off the PBS serial of Masterpiece Theater, which I am watching on the HDTV. At the end of the episode I rise and think of dessert. A ripe pear yellow and blushing red from the fridge, is ever so juicy and delicious. I follow it up with a scoop of butterscotch twirled Friendly's extra rich and smooth Vanilla ice cream. This I top with a darkly intense chocolate, with blue berries and grapes, which adds a subtle, yet deep aroma and taste. I enjoy each bite and relish every single moment and intense flavor, as it stays on my tongue. My senses of touch, smell and taste are overwhelmed with a love for life. which only I, can experience!
I am not beholden to anyone or anything and on this night, I hold my head high and think from my life force and meditate on reality.This is the supreme existence, the sages talked about, but we ignored them, in our modern urgency. We have to slow down, to speed up, as the saying goes. Soon I am so inside myself, that I explode into eternity. This moment is stitched in the space and time continuum, and I rest in peace in a turbulent universe. What if I never existed would I have had this moment, or is this moment the cause of my existence? No one answers, as everything is only me, and I make myself to be free. There are no questions, where I have arrived..
I put away the dishes and wipe the counter clean, suddenly a very content man. My life force is still strong, yet it does not have the recklessness of youth, or the doubts, of our early attempts at life. Now I am alone in my strength and all else exists for me. I do not serve anyone and nobody serves me tonight. We have become free at last in the long history of humankind, as now we have the means to be truly independent. It is sadly an independence of decadence and extravagance of modern life, and no longer the sparse, simple garb of the ancient yogis.
The week end approaches and the choices are multiplied, if one only opens a travel site and looks for deals. We can go anywhere in days and enjoy exotic food and locations, if we so wish, at a few hours' notice. We have become slaves of our daily habits rather than the fearless travelers and nomads, we used to be. At the end of the day I would rather live alone and not serve or be served; to enjoy the proverbial, thousand years of solitude. There is a dignity in becoming self-sufficient, but not all of us achieve this. We remain mired in our desires, fanned by our senses and memories, to enjoy the fruits of our labor.  The cycle of slavery perpetuates itself in us, as we become dependent on others, for our own happiness. This co-dependency only adds to our attachments and we can never break out, and be free.
"Here lives a free man. Nobody serves him." -Albert Camus, writer, philosopher, Nobel laureate (7 Nov 1913-1960)