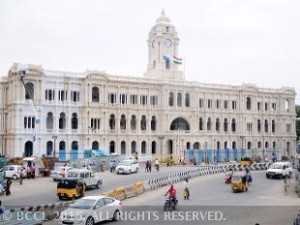 The Chennai Municipal Corporation is divided into 15 zones, which include Manali, Royapuram, Anna Nagar, Alandur, Adyar and Perungudi, most of which were submerged after the incessant rains battered the city and triggered a civic, transport and communication infrastructure collapse. It has 200 wards, which have grown under it, since its humble beginings in the late seventeenth century. being the oldest Municipal corporation in India having started in 1695 almost 320 years ago, and has grown into the colonial Ripon Building. It hopes to deploy over 20,000 employees, and get help from surrounding corporations to clean up the mess. It is a herculean task for such an ancient corporation, and it needs all the help that we can give to it in manpower, trucks, loaders and civic garbage removal equipment.
Post clean up, proper reengineering of certain areas of the city is required to make Chennai a city capable of handling such a natural disaster. Engineering to allow water flows to remove excessive waters, by use of huge pumps like New Orleans at flood prone zones, and other diverting measures, from lessons learned in this last flood; should be implemented. We have to make Chennai into a modern city and remove the weaknesses in the civic center, by recognizing flood zones, and becoming better at draining them; using modern methods. The people of Chennai should demand this from their corporation as countless man-hours have been lost, which could have been used for better purposes. Climate change is here and if we do not change and adapt, then nature will change us.
In another sign of things to come India's oldest IIT in Madras, had for the first time resort to using Skype to hold interviews for companies, which are not able to make it to the campus, for the placements. Internet video calling has come to IIT Chennai, and HR of major corporations; and I wonder if virtual reality, is next! New technologies are disrupting the most important human functions and interactions, such as hiring, which are major milestones in an individual's life.
At a minimum we need to ensure fail-safe and secure information systems for a modern city. After the floods valuable lessons were learned, and now remedial measures can be implemented in a planned manner. We need the best minds to work on helping this great city.
We wish Chennai and its citizens a speedy recovery from this natural calamity, and hope for its corporations to emerge stronger at the end!