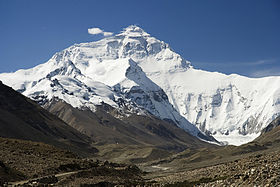 According to a report from the International Centre for Integrated Mountain Development (ICIMOD), 35% of the glaciers in the Himalayan region will disappear in the next 20 years, even as temperatures across the Himalayas would rise by 2.5 degrees Celsius by 2050. In a warming region, the iceman's invention may be a useful adaptive tool.  "Glaciers have been receding rapidly for the last four-to-five decades," said Chewang Norphel, 74 known popularly as the 'Ice Man'. Eighty percent of the farmers in Leh district in northern India, he said, depend on glacier-melt to irrigate agricultural land and grow vegetables, barley and wheat. In a largely Buddhist region large stupas of Ice and the diversion of water sources into shaded valleys to seed artificial glaciers, is becoming the only source of reliable water in an increasingly arid region.  Norphel has been leading these efforts with the help of the local authorities for the past decades bringing much needed relief.
The Ice Man's methods as he detailed to world leaders at the Kyoto climate summit in 1997, may be the last saving grace, for the fading glaciers in mountain ranges across the world. From the Alps, Andes, Rockies, Caspian mountain ranges we will see devastating effects, as these are the source of major life giving rivers like the Danube, Po, Rhine and Rhone in Europe, the Colorado in the Rockies, Indus, Ganges, Brahmaputra and many others in Asia. Climate change and receding glaciers continues to dry up California, European plains, the Indo Gangetic plain and other major croplands on earth and major glaciers have been on the retreat, across all the nations. Ground water levels are falling precariously, as we continue to pump out more water for irrigation and human needs from dwindling aquifers. We need the ability to use these high mountains to create the large glaciers, needed to store and release huge bodies of fresh water, and aid nature to do it, in the race against global warming.
The worries of these receding glaciers were dramatically shown by California Governor Jerry Brown this year when he stood in a barren land where glaciers had traditionally covered the land in recent memory. The Swiss and other experts have been proposing huge Dams to store the water at a great cost. China has been looking for water for its arid regions to feed its growing population. South Asia probably has the most at stake as the Monsoons have been erratic and its river flows and water reservoirs in precarious conditions with substantial hardships for its farmers. Increasing suicides from desperate farmers, are becoming a seasonal reality of life in these regions.
These methods are known to work at very low cost, and with simple engineering changes. We just have to divert existing water systems, and reduce their velocity, and divert them to shaded valleys, where the seasons and nature will do the rest. The Indian army and the government's engineering bodies, have started work on these efforts, but much more can be done worldwide. We have to make efforts to build these natural stores of waters in the winter months, so they can be used in the spring to seed and grow crops without rains. These can also help to replenish the ground water levels before we hit disaster levels, and human existence in these areas becomes impossible. Climate change is not going away any time soon, and the sooner we take action to preserve life giving fresh water supplies, the better for us.These have lower environmental effects, than the giant Dams being proposed, and can be implemented at far lower cost of resources, with a minimal environmental footprint.